On July 23, the 17th China (Jinan) Solar Energy Utilization Conference and Comprehensive Energy Exhibition (SUCE) was grandly opened in Jinan High-tech International Convention and Exhibition Center. At this conference, Skyworth and LONGi moved forward hand in hand, reached a consensus on building high-quality photovoltaic power plants and safeguarding the value of the whole life cycle, signed a 2GW module procurement framework agreement on-site, established in-depth cooperation in the development and construction of distributed projects, and jointly promoted Healthy and sustainable development of the industry.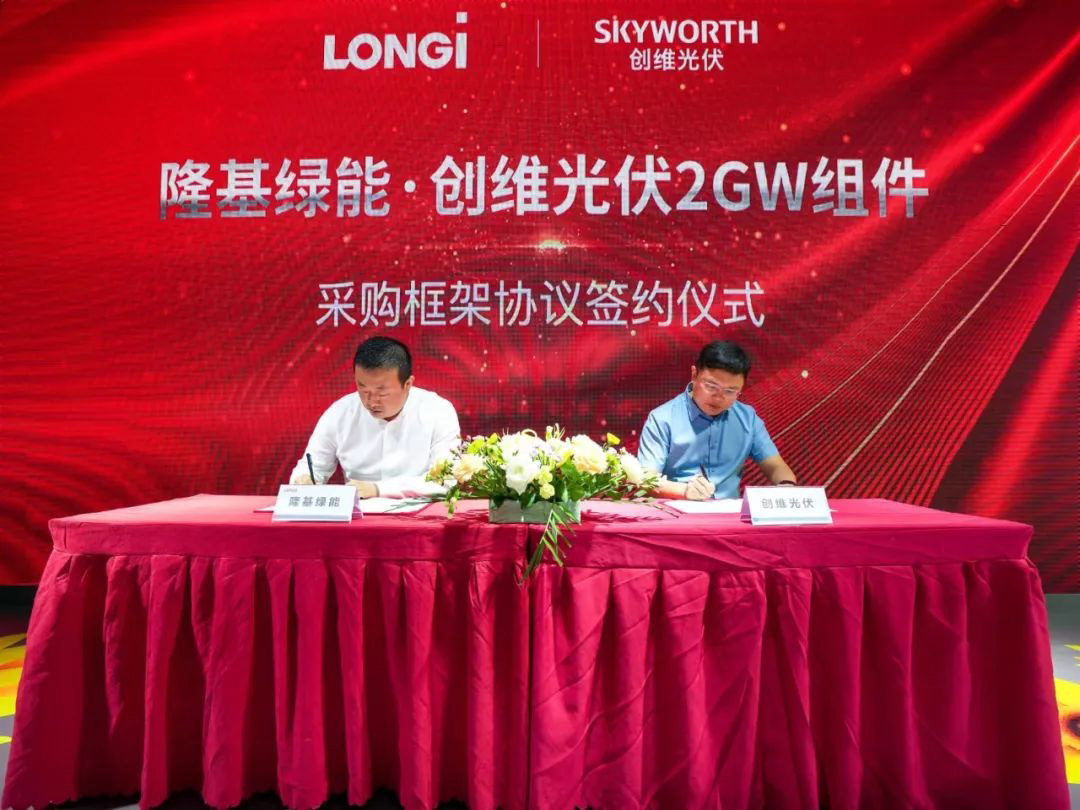 Distributed photovoltaic is a "business card" for clean energy to enter thousands of households. The public's acceptance and recognition of it is of great significance to the future popularization and application of new energy. Therefore, the safety and profitability of distributed power stations cannot be ignored. In recent years, due to the entry of some low-efficiency and low-quality photovoltaic products and system services into the end-consumer market, safety accidents have occurred frequently in distributed household and industrial and commercial projects, which have brought huge losses to owners and investors. The healthy and long-term development of the distribution industry has brought adverse effects. As we all know, once the safety bottom line is broken, the value and benefits of distributed photovoltaic power plants are all "sources of nothing".

In terms of quality, Skyworth Photovoltaic has a strict quality control system. Skyworth follows the principle of "high standards and strict requirements" for the equipment and materials used in the construction of power stations. The user power station is insured, the quality of the equipment is excellent, and the quality assurance is fully guaranteed. It is worth noting that Skyworth Photovoltaic is the first enterprise that has won the double certification of TÜV (North Germany) household photovoltaic system EPC certification and operation and maintenance certification. Process requirements, production supervision, quality inspection and other links supervise and supervise the entire production process of the system equipment to ensure the quality of the equipment in an all-around way. After the completion of the power station, the Skyworth photovoltaic intelligent operation and maintenance system will provide users with 7*24 hours of safe operation and maintenance service guarantee.
With the concept of "user value as the center", to protect the quality and safety of power plants, Skyworth Photovoltaic and LONGi have carried out in-depth cooperation on the development and construction of distributed projects to achieve complementary resource advantages and jointly build new business formats in the photovoltaic industry, New benchmark.
Skyworth Photovoltaic is willing to move forward with more industry partners, and users to build more substantial and more valuable quality power stations, mutual benefit and win-win, contribute to the promotion of rural revitalization and strive to achieve the dual carbon goal as soon as possible.